SiteApex Administration Help & Tutorials
Please use the topic links below to see a list of tutorials for that particular topic or module. Or you can use the search button to search for help on a specific topic.
Note: there are a few non-default modules listed here. Please contact sales if you are interested in any of these modules.
How To Search Users in Security Groups
This article explains how to search through your user lists in the security area of your website administration system.
1.
Log in
to the admin area of your website.
2. Click on 'control panel' (top menu), then 'security' (left menu)
3. Click on the 'list users' icon near the top of the page, this will bring you to a page where you can search or list users.

4. On the list users screen, there are 3 ways that you can look for users...
a)
Search -
enter your search term (usually name or email address) in the search box, then select which user groups you want to search in (leave blank to search all). Then, click 'search users' to display the search results.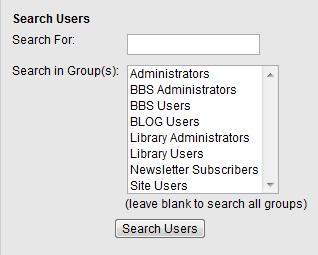 b)
View by Group
- This function will list all of the users in the security group you choose from a drop down list

c)
Browse by letter
- this function will list all of the users whose last name starts with the letter you click on.