SiteApex Administration Help & Tutorials
Please use the topic links below to see a list of tutorials for that particular topic or module. Or you can use the search button to search for help on a specific topic.
Note: there are a few non-default modules listed here. Please contact sales if you are interested in any of these modules.
How To Change Your Password
To change the password you use to log in to the admin area of your website, or to change the password of any user associated to your website, follow these steps.
2. Navigate to 'Control Panel' (top menu) -> 'Security' (left hand menu)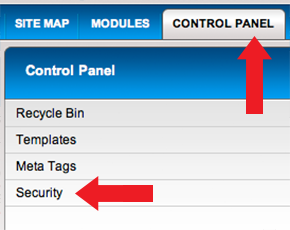 3. Click on 'List Users' (top icon menu)

4. Search for the user that you wish to change the password for. Instructions for searching users are in
this article
(link opens in a new tab).
5. Click the edit link beside your user to bring up their details.

6. On the user details screen, enter the new password, or use the generate password button.

7. Scroll down to the bottom of the page and click the submit button to save your changes. The next that user logs in, they will need to use the new password you've assigned.