SiteApex Administration Help & Tutorials
Please use the topic links below to see a list of tutorials for that particular topic or module. Or you can use the search button to search for help on a specific topic.
Note: there are a few non-default modules listed here. Please contact sales if you are interested in any of these modules.
2015-09-14
Building a Form - Advanced Options
When editing a form you will notice 4 tabs of options on the Form you are editing. General, Advanced, Security and E-commerce. Here we will cover the Advanced tab and all of it's options.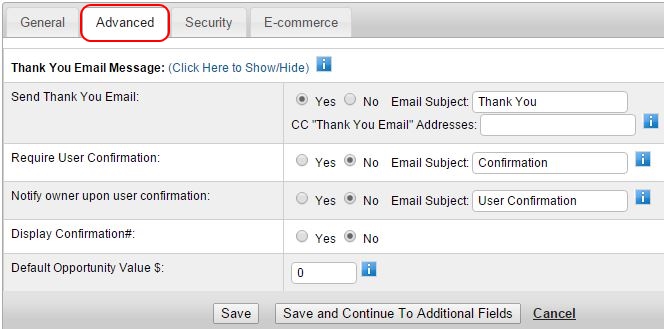 Thank You Email Message - Enter an email message here if you want to send an email to the form vistor after they completete the form.
Send Thank You Email - Enable the 'Thank You Email' by chooseing "Yes". Edit the Subject if you wish to customize this. You can CC (Carbon copy) other email addresses by adding them to the Addresses line.
Require User Confirmation - Turning on this feature will delay the users response from being submitted until they approve it. If you have collected their email address it will send an email with a link to approve the submission of the response. This is another way to prevent spammers from submitting spam resposnes on your website. Note you can edit the Subject text of this email.
Notify owner upon user confirmation - If you are using the Confirmation feature you can also notify the form owner by email when someone has confirmed their response. Note you can edit the Subject text of this email.
Display Confirmation - Display the form confirmation ID in the body of the Thank you email message.
Default Opportunity Value $ - Enter the projected dollar amount each lead (form submission) is potentially worth. If this form is a payment form, the value will be automatically set on payment to the payment amount.
Click to to go the the next article: Building a Form - Security