SiteApex Administration Help & Tutorials
Please use the topic links below to see a list of tutorials for that particular topic or module. Or you can use the search button to search for help on a specific topic.
Note: there are a few non-default modules listed here. Please contact sales if you are interested in any of these modules.
2019-03-02
Creating A Calendar Event
Once you have created a calendar (click to learn how to make a calendar) you will want to add your events next.
Continue in the Modules area of the Admin and make sure you are in the 'Calendar Manager' module by clicking on the module name in the left menu.
If you have created a calendar click "Add Event".
Complete all the settings you require for your event and click "Submit" at the bottom of the page. Below are descriptions of the event features and additional ways to use your calendar event.
Setting Event Options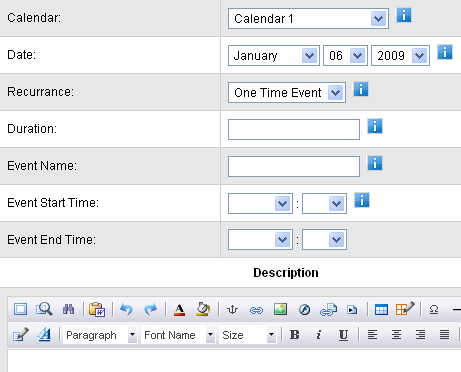 Watch Video on this subject
Calendar
Choose which calendar the event should appear in.
Date
Choose the start date of the event.
Recurrence
If the event occurs once then choose "One Time Event" and set the Duration to "1" (point 4.2.4). If it occurs for more than once, set the recurrence to daily (One Time Event), Weekly, Bi-Weekly, or Monthly and then set the Duration to "2" or more.
Duration
This option is used to set the number of Recurrences an event will last (point 4.2.3). If it is a weekly event for one year, set the Recurrence to "Weekly Event" and the Duration to "52".
Event Name
Allows you to give the event a name that will show up in the calendar for each day the event occurs.

On the calendar, the event names are links which, when clicked on by a visitor, open a pop-up window displaying the event description. This window can show text, photos, maps, email links, and other links.
Description
Allows you to input content that will display in the pop-up window when someone clicks on the event. When entering content for this event window, consider answering the following questions your visitor will likely be looking for depending on the event:
Event Name
Date(s), Time(s)
Inclusions and Exclusions
Location
Directions
Graphic Map or Link to Map
Parking Service and Cost
Registration Deadlines
Seminars/Speakers/Classes
Admission Cost
Payment Methods
Attire

Transportation
Accommodations
Services Available
Handicap Access
Contact Person(s)
Contact Email(s)
Website(s)
What To Bring
What Not To Bring
Menu(s)
Diet and Allergy Provisions
Other Instructions
Adding Events to the Coming Events Plugin
Go to the Calendar Manager Module under Modules.
Click on "List Calendar Events"
Click Edit on event you wish to have on the "Upcoming Events". Look for the "Show in Coming Events" field and turn this on to show this event in coming events or off if you do not wish it to show in the coming events.
Tip: If the event is still not displaying, ensure that it is "Active".
Deciding what events display in the Coming Events plugin
Go to the 'Template Manager' under the main SiteApex area 'Control Panel'.
Click 'Plugins' on the template that contains your "Coming Events".
Find and edit your Coming Events plugin in your template and adjust the "Number of days ahead to display" field to change how many days ahead you want events to display on your website.
Save Plugin and Publish the template changes.
Registration Event
Setting your calendar event as a registration event allows people to register or sign up to attend your event.
First, you'll need to create a sign-up form using the form manager module. Typical sign up forms would ask for first name, last name, and phone/email address.
Once the form is created, set your registration event options in the calendar event: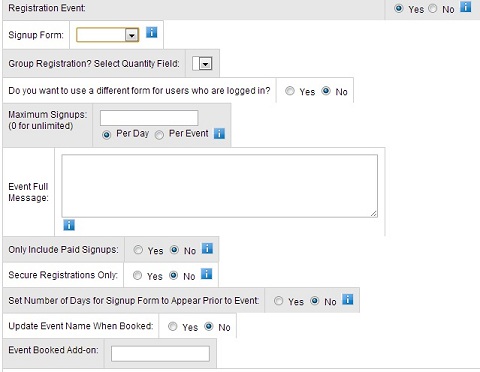 Registration Event
- set this to yes if you want people to sign up online for your event.
Signup Form - use this drop-down to choose a form from your form manager module that should be used for people to sign up for your event. If you haven't created a form yet, this drop-down list will be empty. Head on over to the
form manager
module and create a signup form.
Group Registration
- If you are allowing groups to register for your event instead of individuals, use this drop-down to select the form field (from the form you choose above) that groups are using to indicate how many people are attending as part of their group.
Different form for logged in users
- this allows you to display a different sign up form if someone is signed into your website as a user
Maximum number of sign ups
- set your maximum number of attendees for your event here.
Per day
means maximum number of attendees per day if your event is a recurring one.
Per event
means maximum number of attendees to the event overall. Example - You have a weekly recurring event for 4 weeks. You set the maximum number of attendees to 10. If you choose per event, over the 4 weeks, the system would only allow 10 people to sign up in total to all 4 weeks combined. If you choose per day, the system would allow up to 10 attendees per week.
Event Full Message
- This message will display on your calendar event once you have reached the maximum number of attendees.
Secure registrations only
- only people who are logged into your website will be able to see the registration form. In order for people to be able to log in, you will need to set up a secure login page somewhere on your website.
Only include paid sign ups
- If you want people to pay to register for your event, you can add payment options to your sign up form and set this setting to yes. The system will only consider the attendee registered once it has confirmed receipt of payment.
Set Number of Days for Signup Form to Appear Prior to Event
- if you do not want people to be able to sign up for your event until a specific number of days prior to the event, enter a number of days here. For example, if you enter '10' - no one will be able to sign up for your event until there are only 10 days or less until your event occurs.
Update Event Name When Booked
- this will append a message to the beginning of your event name on your calendar once your event is full. To do this, set this to 'yes' and fill in the message in the field below.