Email Support
Please note that we do not support third party email software such as mobile phones, tablets, or Microsoft Outlook
. Any information regarding third party email software is provided for information purposes only. If you are having any problems with the software, please contact the provider of your software.
If you are having any problems with your webmail or with managing your email accounts in your cpanel, please contact us directly.
Adding, Editing, And Deleting Email Accounts
In order to add a new email address, edit and existing one, change the password on an email account, or delete an email address, you will need to start by logging into your account's cpanel (control panel).
You can access your cpanel at:
http://yourdomainname.com/cpanel
A login prompt will come up, please enter the username and password for your cpanel. If you do not have this information, please open a ticket with your support team - they can provide you with your login information.
Once logged into your cpanel, look for the email accounts icon (see screenshot below) and click it: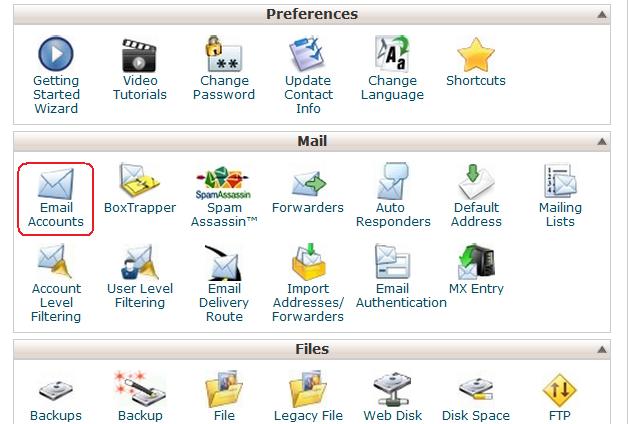 You will be taken to the email account management screen. On this screen you can create new email accounts, edit existing ones, change passwords on existing email accounts, or delete email accounts.