MyHelpPortal.com
This area of the site is for help and tips on getting the most out of your myhelpportal.com customer account. Please use the specific myhelpportal.com url as provided to you when you signed up for your account.
Example: http://name.myhelpportal.com
this will ensure that you are contacting the correct support team.
1. First, please follow the steps in this article to get to the domain settings page in myhelpportal.com
2. Once on the domain settings page, first make sure the domain is unlocked so that it can be transferred away. Do this by
UNCHECKING
the registrar lock box.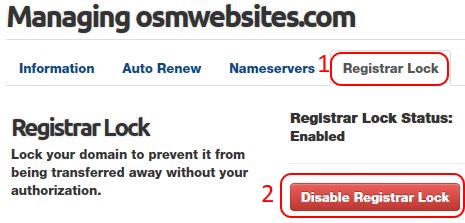 3. Next, click on Management Tools > Contact Information and make sure the registrant and administrator email addresses are email accounts that you have access to. This is important because usually at least a couple of emails are sent to either one of these email addresses during the domain transfer process.
Important Note
-if you are changing any contact information on a .com domain please note that ICANN requires that the new contact verify this change. An email will be sent at the time of change.
-if you are changing any contact information on a .ca domain, CIRA (Canadian Internet Registration Authority) may lock down the domain for 60 days, so you will not be able to modify contact details or transfer it during the lock-down period.

Once you're done updating the contact information on the domain name, click 'save changes' -> then click 'back' to get back to the domain settings page.
4.Last step is to get the EPP code. Please contact us view support ticket to request this. You will then provide this transfer code to the new domain provider.
Note
- Once the EPP code has been provided, the rest of the domain transfer process is the responsibility of your new registrar - please contact them for assistance with the rest of the transfer process.
Once they have everything completed on their end, a request is sent to us to release the domain which we automatically do within 5 days or less of receiving the request from your new registrar.