SiteApex Administration Help & Tutorials
Please use the topic links below to see a list of tutorials for that particular topic or module. Or you can use the search button to search for help on a specific topic.
Note: there are a few non-default modules listed here. Please contact sales if you are interested in any of these modules.
2015-02-17
Embedding a Youtube Video
Adding a YouTube video to your web pages is easier then ever with our newest version of the editor. You can even adjust the dimensions and apply styles right in the editor.
1. Click the cursor where you want to insert the video into your content. Click on the YouTube Icon in the editor.

2. In the YouTube dialog box you can either paste in the Embed code or the Video URL and manually set options for your video.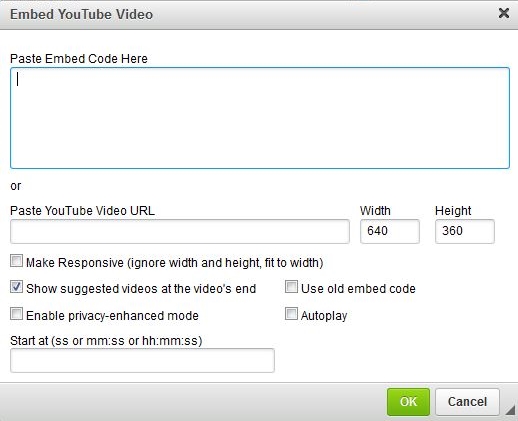 3. When finished click Ok your video will now be embeded in your content.