SiteApex Administration Help & Tutorials
Please use the topic links below to see a list of tutorials for that particular topic or module. Or you can use the search button to search for help on a specific topic.
Note: there are a few non-default modules listed here. Please contact sales if you are interested in any of these modules.
2017-07-14
Tips for Making your Tables Responsive
Right click on your table. Click on Table Properties.

Change the width from a set width to "100%".

Click "Ok"
This will allow your table to fit to the size of the window it's provided on various sizes of devices.
Additionally you might want your columns to be different widths so in a percentage based table we recommend you determine what percentage, totalling to 100%, that you want each column. To do this you go deeper into the Cell Properties by clicking in the first cell of the column you want to set and then right clicking to get 1.Cell--> 2.Cell Properties as shown in the diagram:
On the Cell Properties pop-up you can then specifically use the percentage option to control the proportion of that cell compared to the others. In this example below we have set the first column to 10 percent: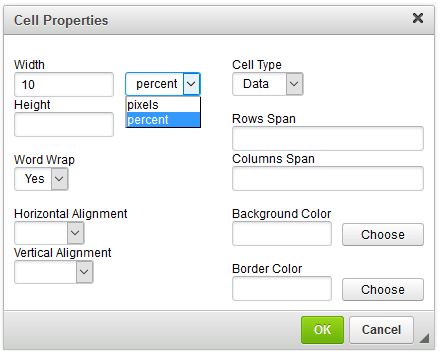 which immediately forces the other two columns to evenly share the remaining space in this 3 column example: