SiteApex Administration Help & Tutorials
Please use the topic links below to see a list of tutorials for that particular topic or module. Or you can use the search button to search for help on a specific topic.
Note: there are a few non-default modules listed here. Please contact sales if you are interested in any of these modules.
Editing Calendar Events
This article explains how to edit an existing calendar event or recurring calendar event...
1. In your website's admin area, go to 'modules' (top menu) -> 'calendar manager' (side menu)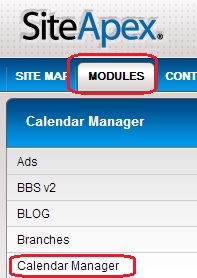 2. Next, click the 'list calendar events' icon and search for the event you would like to edit. You can use the drop-downs at the top of the page to narrow down your search.

3. Click the 'edit' link beside the event you would like to edit (note - for recurring events, pick the specific date you would like to edit).

4. Edit the details of the event as desired. For more information about the options, please see t
his article
.
5. When you are done, click the 'submit' button at the very bottom. If you are editing a recurring event, the system will ask you if you wish to change this one instance or all instances of the event after you click 'submit'.