SiteApex Administration Help & Tutorials
Please use the topic links below to see a list of tutorials for that particular topic or module. Or you can use the search button to search for help on a specific topic.
Note: there are a few non-default modules listed here. Please contact sales if you are interested in any of these modules.
2015-09-16
Building a Form - E-commerce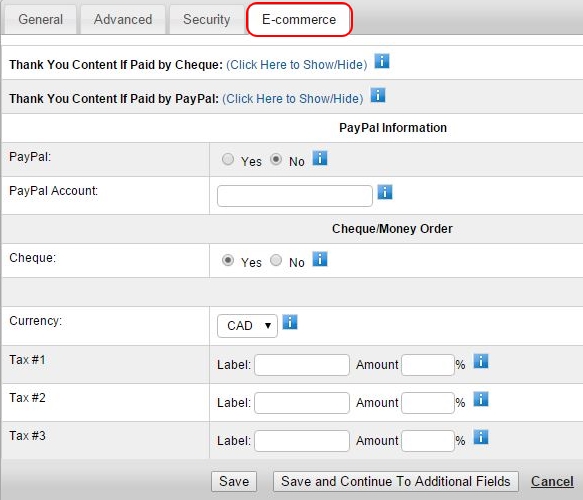 Thank You Content If Paid by Cheque - Edit the Thank you message If you have turned on the Cheque gateway for receiving a cheque payment. Use this Editor window to give them further instructions if necessary.
Thank You Content If Paid by PayPal - Edit the Thank you message If this form is being used to receive a payment using the PayPal gateway and you have already set up a PayPal account which accepts credit cards. Provide additional instuction if necessary.
PayPal - Enable the PayPal gateway to accept payments to your PayPal account. When someone submits your form it will display a screen with a link to pay using PayPal also it will try and Pop-up a window with PayPal. They do not need a PayPal account to make a payment. If payment is succesful the form response will be marked as "Paid".
PayPal Account - enter the username (typically email address) that is assocaited to the PayPal account to receive the money.
Cheque - Enable the Cheque option to give them the option to pay manually using a traditional cheque. Also will enable the "Thank you Paid by Cheque" message after submitting if they choose this option.
Currency - Choose the currency you would like payment to be accepted in.
Tax - Create taxes if required. Once you have set taxes you will need to choose this tax on the Product field to enable them. Click on the "Continue to Additional Fields" to manage that Product field.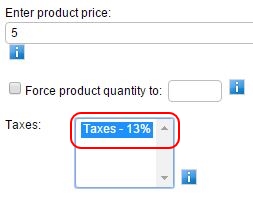 Click to go to next article: Creating Custom Form Questions