SiteApex Administration Help & Tutorials
Please use the topic links below to see a list of tutorials for that particular topic or module. Or you can use the search button to search for help on a specific topic.
Note: there are a few non-default modules listed here. Please contact sales if you are interested in any of these modules.
2023-02-15
Page Options
Each Section, Category or Page has a few options that control higher level features of that web page.
To view those options click on the More Options icon

to the right of any section, category or page and it will display the following options:
Make Homepage
Revision History
Deactivate/Activate (depending on the status)
Delete

Make Homepage
By selecting this option, you will be able to make that page your homepage. By making it your homepage, it will be the first page to show up when you arrive at the primary domain URL of your site.
Revision History
Within the revision history, it will show you a table containing the dates at which you had saved changes to that particular page. It is in descending order so that the revision at the top of the page is the previous revision and the next the 2nd oldest and so on down the list.
You are also given options of previewing it or restoring it. Previewing it will show what change was made to the site and how it looked, while restoring it will overwrite what you currently have saved with the content of the revision you selected.
Note: The revision history retains 5 revisions of your page content.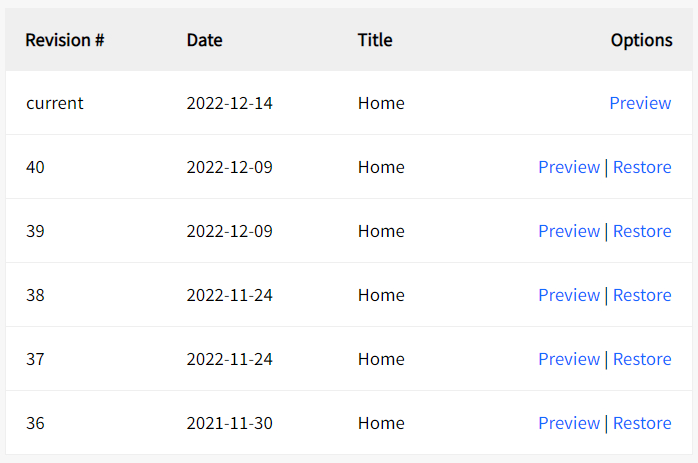 Deactivate
You can deactivate any page you like so that it will not be seen by visitors to your site. It will not delete the site, it will just hide it from viewers so that you will still be able to make changes to it without your visitors being able to see it.
Activate (only available on Deactivated pages)
Since some items are immediately visible to your visitors without the need to publish (compile) the website, we have given you the option of activating or deactivating the item while creating it. These include items such as photos and calendar events.
Delete
You can delete your entire page by selecting this option. It will display a confirmation page confirming you indeed do want to delete that page.
Pages are moved to the Recycle Bin which is found under the main menu in Control Panel > Recycle Bin.
Warning: Deleting a Section or Category will also remove anything that is under those levels.