SiteApex Administration Help & Tutorials
Please use the topic links below to see a list of tutorials for that particular topic or module. Or you can use the search button to search for help on a specific topic.
Note: there are a few non-default modules listed here. Please contact sales if you are interested in any of these modules.
Launching your Website
After you have finished putting content on your website and you are ready for it to go live for the world to see, you will need to complete the following steps.
1. In the
Site Map
, click on the page you want to appear first when people visit your website
2. In the page options in the top right corner, click on "Make Homepage". You will get a message saying homepage has been set.

3. Publish your site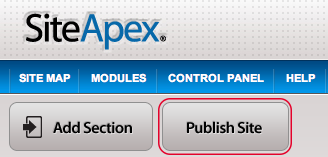 Note
: Once a page is set as the homepage, you will not be able to delete that page. If you need to delete that page, you will first have to set another page as the homepage.